Tours in Georgia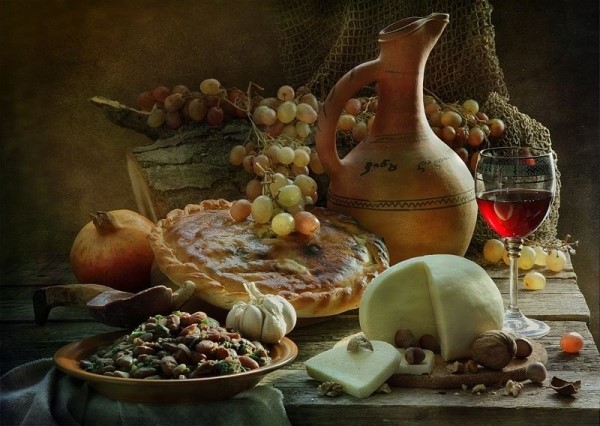 Day 1: Day 1: Arrival to Tbilisi
Meeting at the airport, transfer to the hotel. Overnight in Tbilisi.
Day 2: Tbilisi - Mtskheta tour
After breakfast visit Mtskheta, the ancient capital of Georgia, sight UNESCO heritage – Visit Jvari Monastery of the VI century and Svetitskhoveli Cathedral built in the XI century. After Mtskheta trip,returning to Tbilisi visit Georgian wine factory, wine tasting tours, and have exiting tasting experience you will never forget.. Tour includes the following sights: Sulfur Baths, Metekhi Church, In front of the church there is a statue of King Vakhtang Gorgasali, founder of Tbilisi. The church dates back to the XIII century and has a diverse history, St. Nikolas Orthodox Church in Narikala is in the same district. It is wrapped in a defensive Narikala fortress, established in the IV century. After we will visit Sioni Church and Anchiskhati church, the oldest one in Tbilisi, keeping the miraculous icon of Jesus Christ. We will visit a recent monument, the Sameba Cathedral, the largest cathedral in the Caucasus. At the end of the tour we will visit national museum of Georgia. You will have free time for shopping and afterwards delivery back to the hotel. Overnight in Tbilisi.

Day 3: Tbilisi – David Gareji – Sighnaghi
After breakfast depart to east Georgia. to the desert monastery of David Gareja, one of the most holy places in Georgia, the UNESCO heritage. David Gareja is one of the most important landmarks of Georgia. This site is characterized by a unique combination of historic architecture, prehistoric archaeological sites,. The dozens of cave monasteries decorated with unique frescoes are the best examples of harmonious interaction of man-made structures with the dramatic landscape. They bear the traditional principles of sustainable living and are considered as the masterpieces of Georgian Medieval art. Afterwards drive to famous town of Love – Sighnaghi. On the way visit Bodbe Monastery . Saint Nino brought Christianity to Georgia in 4th Century, afterwards to continue to Sighnaghi, Love Town , we will visit Local wine cellar "Pheasant's Tears", where you will have possibility to taste 4 sorts of wine and 1 sort of "Chacha" with bread and cheese. Sighnaghi and its environs are home to several historical and cultural monuments and have been specifically protected by the State since 1975. The town is walled with the remnants of 18th-century fortifications . Overnight in Sighnaghi.

Day 4: Sighnaghi – Gurjaani – Kvareli - Telavi
After breakfast from Sighnaghi we will drive to Gurjaani. On the way tourists will have possibility for sightseeing, visiting Gurjaani All saints' Church, which is the only two domed church in Georgia. Visit Gurjaani wine cellar. Excursion, with tasting of 2 sorts of wine and "chacha", Georgian bread "Shoti", Imeretian cheese "Sulguni" and season fruit. There is 2 centuries old press (equipment used for wine squeezing), which is until now used for the purpose of making wine and which presents the pride of our cellar. Here you can also see old earthen crocks ("kvevri"), where different types of wine are stored. Wine house produces its own vintage wine (Kvevri), which is decorated with appropriate etiquette and production history. Guests can bottle wine which they take out of "kvevri" with their own hands and purchase it in a sealed condition. Professional (certified) sommelier lead the wine tasting for you. Drive to Kvareli. We will visit wine cellar called "Gvirabi"- tunnel. This unique wine cave represents the tunnel that is cut off in eth stone massif of Caucasian mountain range, where yearlong natural temperature is 10-12ºC. The length of this construction is 7, 7 Km. After the excursion and wine tasting in Kvareli we will drive to visit Gremi Monastery the 16th century architectural monument – the royal citadel and the Church of the Archangels and Nekresi Monastery complex, located in an amazing nature, Drive to Telavi.Overnight in Telavi.
Day 5: Telavi - Tsinandali – Telavi
After breakfast visit palace Museum of Georgian King Erekle the 2nd. Afterwards have excursion and wine tasting . Drive to Tsinandali. Visit house museum ofPrince Aleksandre Chavchavadze, with beautiful garden and wine cellar, where we will taste 5 sorts of wine. Alexander Chavchavadze inherited this village, lying in the river Alazany from his father, He refurbished the estate, constructed a newItalianate palace and built a decorative garden in 1835. It was the place where Chavchavadze frequently entertained foreign guests with music, wit, and – most especially – the fine vintages made at his estate winery Marani Familiar with European ways, Chavchavadze built Georgia's oldest and largest winery where he combined European and centuries-long Georgian winemaking traditions. Afterwards drive to "Shumi" wine factory, where we will taste 3 sorts of wine.Wine Company Shumi was once more successful at the Internationl Wine Competion held in London-"International Wine Challenge 2008". The following wines were awarded: "Shumi" (dry white) – Certificate; "Tsinandali" (dry White) –Certificate; "Shumi" (dry Red) – Bronze; "Saperavi" (dry Red) – Bronze. The next visit it to local farmer's cellar and restaurant "kakhuri Ezo" – Kakhetia Yard. Have welcome dinner with local cuisine. In case of a group of 10 pax, guests for additional payment can take part in bread baking, "Mtsvadi" and "Churchkhela" making and of course in Khinkali preparing and enjoy dinner prepared by their own hands with folk program. They will also see how is made Georgia "Chacha".Overnight in Telavi.
Day 6: Telavi – Shuamta – Tbilisi
After breakfast it is planned to visit two most famous wine factories in Georgia"Telavi wine cellar" and "Teliany valley". Make Excursion, tasting of 2 sorts of wine, Georgian bread "Shoti", Imeretian cheese "Sulguni and fruit. Drive to Shuamta monasteries. Two of the most important and most beautiful architectural monuments of Kakheti are the Dzveli ("old") and Akhali ("new") Shuamta Monasteries. Both of them stand in a forest of deciduous trees which makes them look even more fascinating. Drive back to Tbilisi through Gombori Pass. Free time for shopping in Tbilisi. Overnight in Tbilisi.
Day 7: Tbilisi. Kazbegi-Tbilisi
After breakfast departure to Kazbegi. Visit the water reserve Jinvali, visit Ananuri fortress, then visit St. Trinity Gergeti and throat Darialie, Archangels Monastery. Return in Tbilisi. On the way visit "Iagos Marani" and tasting of wine, afterwards delivery back to the hotel. Farewell dinner at National restaurant with folk program. Overnight in Tbilisi.
Day 8: Transfer to the airport
Package includes:
Transportation as per program
4 x overnights in Tbilisi hotel with BB
1 x overnight in Sighnaghi hotel with BB
2 x overnights in Telavi hotel with BB
English/ Russian speaking guide
Museum and wine factory fees including wine tasting
Dinner in Telavi with Georgian cuisine master classes (from 10 pax)
Farewell dinner in Tbilisi