Tours in Georgia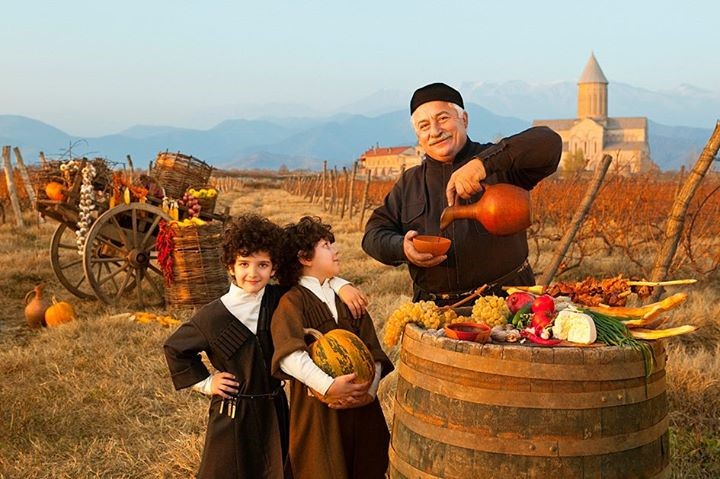 Few of the earth's small nations offer the visitor as much as Georgia: this wonderful cradle of culture, religion and ancient history; Country where everyone (travelers of all kinds) can find something to his own mind and interests, a land of endless wonders- Georgia, once experienced, it will be with you forever. Georgia is a country the size of Switzerland but able to boat the highest mountains in Europe; truly fabulous walks; more indigenous grape varieties than any anywhere (with a wine culture to accompany); a fantastic architecture of stone watch-towers, carved wooden balconies, richly frescoed churches and Art Nouveau. Combine this with a Mediterranean climate and the legendary Georgian hospitality and you have a unique travel destination. So you are welcome to come and explore it!
Duration: 14 nights
Number of visitors: 2
PRICE INCLUDES:
Full services of a IRC Tour with local guide and driver
Meal plan as detailed in the itinerary (B=Breakfast, L=Lunch, D=Dinner) with drinking water
All transport as outlined in the itinerary
Tbilisi / 8 nights at Hotel Coste (4*)
Zugdidi / 1 night at guesthouse
Mestia / 2 nights at Tetnuldi (4*)
Batumi / 2 night at hotel piazza four colours (4*)
Kobuleti / 1 night at Georgian hotel and Spa (5*)
All entrance fees, as per itinerary
Wine degustation and cooking master classes at:
Tbilisi- Restaurant "Tabla"
Mukhrani "Chateau mukhrani"
Tbilisi- "Barbarestan"
Tbilisi- "Culinarium"
Mtskheta – "Salobie"
Signagi- "farmer's house"
Alaverdi- monastery winery / wines made by monks.
Zugdidi- "Diaroni"
"Mestia"
Batumi- Restaurant "Sazandari"
Keda- "Adjarian wine house"
Day I: Tbilisi / Arrival
Arrival at Tbilisi international airport- Aegean Air 982 at 4:05am. Meeting and greeting by our representative, transfer to your hotel in Tbilisi. Check-in at the hotel and overnight
Day II: Tbilisi (B, L)
Breakfast at the hotel
Today you'll enjoy a sightseeing tour of old Tbilisi, a charming town built along the twisting valley of the Mtkvari River. Your journey of discovering will take in the Sioni Cathedral and the 6th century Anchiskhati Basilica, the oldest church in the city, before continuing on to see the city's history museum and the imposing 4th century ruins of the Narikala Fortress, which once dominated the city from its hilltop setting. You will visit to Tbilisi Sulphur bathses as well, (17th and 19th centuries) – The history of the Sulphur baths in Tbilisi is related to the formation of the city itself.
Lunch and master class of making Georgian traditional food at the restaurant "Tabla".
Evening walk to old part of the city, wine degustation with Georgian sweet "Churchkhela" and cheese.
Overnight in the hotel.
Day III: Tbilisi / Mtskheta/ Kazbegi / Tbilisi (B,L)
Early breakfast at the hotel. Meeting with you tour guide and leave for Mtskheta – the ancient capital of Georgia. This newly reconstructed city museum offers a lot for its visitors. The main place to go first is Svetitskhoveli cathedral (11th century).
Lunch at Mtskheta "Salobie"
A stunning drive from Mtskheta along the Military highway will bring you to Kazbegi. On the way you pass Ananuri Castle and Jinvaly water reservoir of amazing beauty. From Kazbegi a leisurely 1.5 hour walk up through beautiful valleys and woodland leads us to Gergeti Trinity Church located at 2170 m. From Gudauri we drive to Tbilisi.
Drive back to Tbilisi. Dinner and overnight
Day IV: Tbilisi / Kakheti Region / Tbilisi (B,D)
Breakfast at the hotel and drive to eastern part of Georgia.
Kakheti is the largest wine producing region of Georgia and it is just a couple of hours away from the capital, Tbilisi. It's the perfect place to enjoy a few days of wine tours and spas without jostling among hoards of tourists. If you are after a relaxing time in discovering a totally new culture with unique wines and food that is still at the beginning of its fast-growing wine tourism, the Kakheti region is the place to be.
You'll take a walk in the fortified town of Sighnaghi and taste local wines at a winery. Visiting to Alaverdi cathedral where we can take a tour of monastery winery and taste very special wines made by monks. you'll enjoy our lunch at a farmer's house with home-made dishes. you will see how Georgian sweet 'Churchkhela' (walnuts coated in grape juice and flour) is made and Georgian bread "Shoti" is baked.
Day V: Tbilisi / Zugdidi (B,D)
Breakfast at the hotel and drive to Zugdidi.
Cooking master classes at the restaurant Diaroni.
The Megrelian take on Georgia's most famous food, kachapuri, which is warm yeasted bread stuffed with cheese, is to top it with more cheese. More is better here: Megrelian hot pepper relish, adjika, is hotter and pepperier than in other regions of Georgia, its signature cheese, suluguni, is creamier and saltier, and its polenta dish, elarji, takes the everyday Georgian polenta-with-cheese dish called ghomi and dresses it up with even more cheese.
Afterwards Visiting the palace of Dadiani. The Dadiani Palaces History and Architecture Museum is considered to be one of the most eminent palaces in Caucasus. The palace keeps 41 000 museum objects. The palace is surrounded by English Garden. Dinner and overnight in Zugdidi
Day VI: Zugdidi / Mestia (B,D)
Breakfast at the hotel and drive to Svaneti.
Svaneti is Georgia's most mysterious mountain region is like a fairy tale come to life. The fabled region is renowned for its enchanting stone villages, punctuated by the famous defensive towers, and populated by a fiercely independent race, known as the Svans.
Visiting the Svaneti Ethnographic museum.
Master classes of making Svanetian traditional food called "Kubdari"
Dinner and overnight at the hotel Tetnuldi
Day VII: Mestia / Ushguli / Mestia (B,D)
Breakfast at the hotel
Late afternoon you'll reach Ushguli, the highest permanently inhabited village in Europe (2200m) and a UNESCO World Heritage Site.
Back to Mestia. Dinner and Overnight
Day VIII: Mestia / Batumi (B,L)
After breakfast drive to the direction of Batumi.
Check in the hotel.
Drive to Keda and visit to the Ajarian wine house, exploring the Winery and wine cellars, learning about the wine-making process, interacting with wine makers, lunch and tasting of local wines.
Adjarian wine house is a small winery with at a beautiful location 15 minute-drive from the capital of Ajara, Batumi. It was built on the ruins of an 18th century historical winery in Ajara. The overall mission of AWH is to restore the historical winemaking traditions of Ajara and re-introduce some old, unique wines such as "Chkhaveri", that are characteristic to this region. New vine species and collection wines are also produced. Guests have the chance to taste wines produced from unique vine species, get acquainted with Ajarian cuisine and folklore, to have a walk around "Chkhaveri" vineyards, and to purchase some local folk souvenirs as well as participate in wine making.
Back to Batumi and overnight
Day IX : Batumi sity tour (B,L)
Breakfast
This comprehensive walking city tour will show you some of the most important sights of the old part of Batumi, known for its historic buildings. The highly qualified guide will take you through the charming streets of Old city and give you a unique insight into the history of amazing buildings and the breathtaking monuments you see.
Batumi walking tour includes visits to: Batumi Boulevard and Musical Fountains, St. Barbara`s Church, St. Nikoloz church, Statue of Medea, Piazza, Batumi Sea Port, Alphabetic Tower, Moving sculpture of Ali and Nino
Lunch and cooking master class of making Adjaruli Khachapuri- at the local restaurant
overnight
Day X: Batumi- Kobuleti (B,D)
Day XI : Kobuleti- Kutaisi- Tbilisi (B,D)
Early breakfast at the hotel and drive to Kutaisi
The city of Kutaisi dates back to the Argonauts' time (13th -12th centuries B.C). Formerly capital of old Colchida, Kutaisi then ruled all of Western Georgia.
Visiting to Gelati and Bagrati churches, are listed as World Cultural Heritage Sites by UNESCO.
Drive back to Tbilisi
Dinner at the restaurant "Tsiskvili" with the Georgian traditional folk music.
Overnight
Day XII: Tbilisi- Chateau Mukhrani-Tbilisi
breakfast
Walking tour to Dry Bridge Market, best place for unique souvenir shopping in Tbilisi. This extraordinary flea market will keep you entertained for hours. There you can find original eastern European, Soviet, Georgian and even Armenian or Azerbaijani souvenirs. There are many oil paintings and watercolors, usually full of amazing, bright colors and cheerful spirit.
Drive to the direction of Mtskheta and visiting Chateau Mukhrani.
Visit Prince Ivane Mukhranbatoni's castle built in XIX century, garden, unique underground cellars and stable
Discover the Chateau's art of winemaking
Wine Education Master Class
Overview of wine varieties
Learn the art of identifying wines and take the mystery out of wine tasting
Instruction on wine-tasting etiquette
Sample 4 wines
Food and wine pairing
Lunch at the restaurant Samepo Marani 1878
Back to Tbilisi
overnight
Day XIII: Tbilisi / Master class at Culinarium (B,L)
Breakfast at the hotel
Master class at culinarium (the first Georgian cooking school for all food and wine lovers)
Free time
Day XIV : Transfer (B,L)
Breakfast at the hotel
Lunch at the restaurant "Barbarestan"
Free time
On 27th midnight transfer to the airport (2:35 AM, TK 379)